MERRY CHRISTMAS AND A HAPPY NEW YEAR!
We wish you a wonderful Christmas and a successful New Year. Thank you for your loyalty and trust.
Welcome
to Hamburger Containerboard in Germany, Spremberg
The Fascination of Paper
We produce advanced recycled containerboard to exceed customer expectations.
Dedicated to High Quality
We are committed to the careful selection of the relevant raw materials, a qualified production process, and intensive quality controls
For the Future of Generations to Come
We recycle wastepaper in a manner that is kind to the environment and continuously improving our processes and monitoring the effects of this process.
Vision & Mission
Our Vision
We are passionate to serve customers the best recycling, paper and packaging solutions.

Our Mission
We recover valuable raw materials and optimize the value chain for our customers.
We produce advanced recycled containerboard to exceed customer expectations.
We deliver innovative and competitive packaging solutions for our customer supply chain.

Our Core Values
define our way of doing business and how we want to be seen.
We enjoy contributing to our customers success
Our innovations serve customer solutions
We treat each other and our environment with respect
Our success is based on our team spirit and entrepreneurship
We promote sustainable development of our employees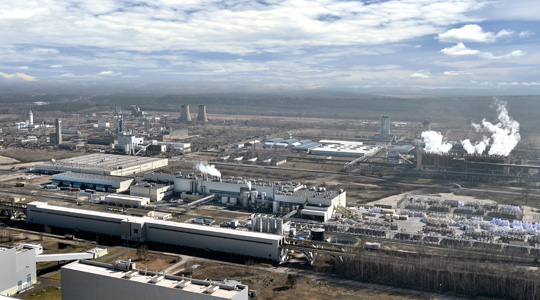 With approximately 450 employees, Hamburger Conntainerboard in Spremberg is one of the largest employers in the region.
After the completion of our expansion project – construction of a second paper machine – Spremberg is the largest location of the Hamburg Containerboard Division with an annual production of about 840,000 tons of paper.
In addition to the production of white uncoated corrugated containerboard, we also produce high-quality white coated papers under the RiegerLiner EC-D name. The portfolio is rounded off by the production of various gypsum-grade paperboard types.