Welcome
to Hamburger Containerboard in Germany, Spremberg
The Fascination of Paper
We produce advanced recycled containerboard to exceed customer expectations.
Dedicated to High Quality
We are committed to the careful selection of the relevant raw materials, a qualified production process, and intensive quality controls
For the Future of Generations to Come
We recycle wastepaper in a manner that is kind to the environment and continuously improving our processes and monitoring the effects of this process.
We make paper out of passion
We grow. Grow with us. Hamburger Rieger GmbH offers you challenging and varied tasks in a successful company and value-oriented working environment. Mutual respect, integrity and good teamwork are vital to us. In addition to performance-related remuneration and the granting of special benefits, we promote your individual development through ongoing internal and external training measures.
Please use our website for your application.
For optimal processing, application documents for upload should be saved as PDF files (max. 3 MB per document).
If you do not have the opportunity to upload your application documents online, you can also send them to us by post (including the signed declaration of consent for automatic data processing).
Please note that in this case the processing time will be extended.
Your complete and meaningful application documents include:
Cover letter
Curriculum vitae
Certificates
Evaluations
Information about internships already completed
Declaration of consent to automatic data processing

Your time is precious to us, which is why we may invite you to a video interview during the candidate selection process.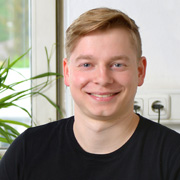 Career examples - Production manager
Friedjof Kulling
How long have you been with the company?

August 2008

In which position do you currently work?

Production Manager

Would you please describe your career path to us.

I have written an unsolicited application to train as a paper technologist. As a result, I was invited to complete a week's internship. That's where I got a taste for paper making. After the week, a recruitment test was carried out and one day later I got a phone call to see if I still wanted take part in the training. I was very happy and, of course, accepted. After just under a year I quickly realised that I wanted more, because everything went well at the vocational school in Altenburg. So when I was asked if I could imagine an university study afterwards, I immediately agreed. The training ended in June 2011 with a final grade of 1.1. Then I spent two months as a skilled worker in stock preparation and at the paper machine, partly additionally, partly independently as a substitute. The studies began in mid-September 2011, three years of theoretical education in Gernsbach and Karlsruhe, 4 practical theses, 1 theoretical dissertation and the bachelor thesis, followed by the Bachelor of Engineering for Paper Technology with a final grade of 2.0. Shortly before that, the opportunity to become a process engineer presented itself in Trostberg. I seized this opportunity and commuted every two weeks from October 2014 to October 2016. In autumn 2016 I returned to my Spremberg home, where I have been in charge of production since February 2017.