Welcome to Hamburger Containerboard Gelsenkirchen
Hamburger Containerboard Gelsenkirchen offers its European customers and partners a complete range of high-quality corrugated base papers, which is produced from 100% recovered paper. In Gelsenkirchen we currently have 160 qualified and motivated employees who take care of all aspects of paper. We can proudly claim to be the market and quality leader in Europe!
Your contact persons at location Gelsenkirchen
About Hamburger Containerboard Gelsenkirchen
Tradition and innovative spirit
The Hamburg Containerboard first started papermaking in Germany at Trostberg, more than 100 years ago, originally under the name of the company founder: Rieger. From the production of handmade paperboard and cardboard, development became focused, over the decades and then with the acquisition by the Austrian based W. Hamburger AG (1989), on white testliners. Over the years RiegerLiner has become a brand name in its own right. The successful development and progress in this product segment then led to the construction of the new plant in Spremberg. The PM1 went into operation in 2005.
After the merger of both locations in 2010, Hamburg Containerboard was expanded in 2014 with the Papierfabrik (paper mill) in Gelsenkirchen. Today Hamburger Containerboard is the market leader in the field of coated and uncoated white testliners. The names of the original company founders, Wilhelm Hamburger (Pitten, Austria) and Johann Rieger (Trostberg, Germany), are retained to this day in the names of our companies.
The entrepreneurial vision and outstanding achievements of our company forefathers and the Prinzhorn family set a precedent for the continuous sustainable development of our company for the future, to which we are all bound. Through this we embody both Tradition - our shared experience and common value set - and Innovative Spirit - our capacity to innovate, develop new products and processes, and implement state-of-the-art machinery and systems. We do not see any contradiction here – on the contrary. Only those who are aware of their past and willing to learn from it are able to shape the future.
And this symbiosis of old and new is what defines us: For example, our board machine 1 has been running, on and on, for 95 years (!); the paper machine 1 in Trostberg for 28 years, the paper machine in Gelsenkirchen for 50 years and the PM1 in Spremberg for a mere 15 years. All of this – and much more – constitutes our "fascination for paper"!
History of the Gelsenkirchen location
| | |
| --- | --- |
| 2021 | New construction Autoline, I-Table |
| 2020 | Construction of new soft nip calender |
| 2018 | Construction of new power plant |
| 2016 | Modification of the PM1 |
| 2014 | Acquisition of Papierfabrik Gelsenkirchen by Hamburger Rieger Group |
| 2012 | Certification to the FSC standard, launch of implementation of integrated management system and introduction of DIN EN ISO 50001 |
| 2011 | Construction and commissioning of floatation plant for water pre-treatment in the inlet to the biological cycle water treatment plant |
| 2010 | Construction of a biological cycle water treatment plant with CHP to clean the cycle tanks and reduce water consumption and waste water pollution |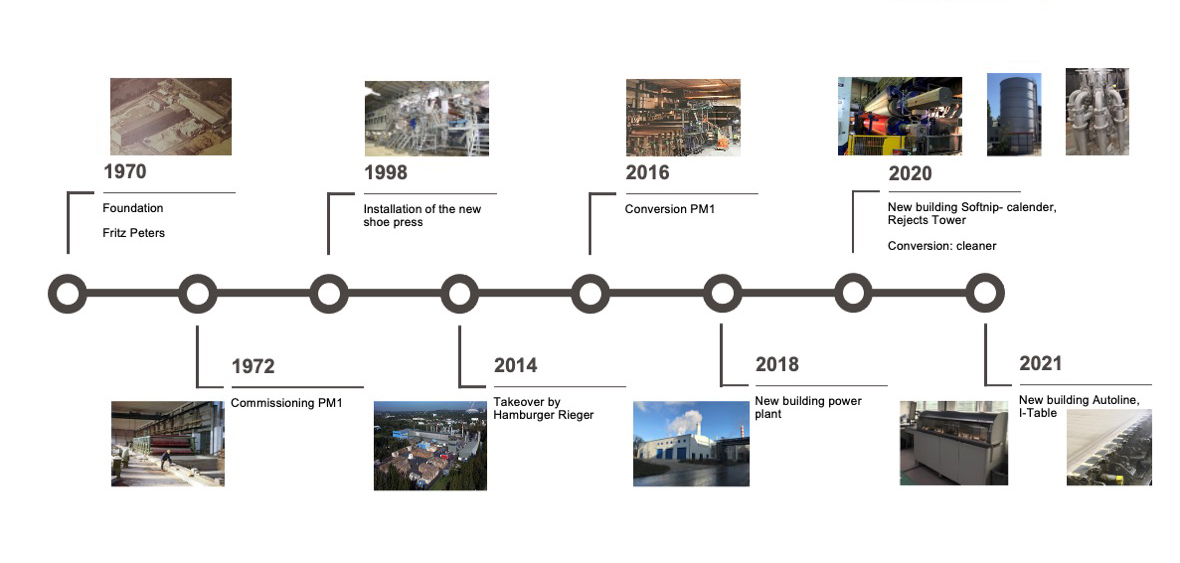 Paper machine 1
| | |
| --- | --- |
| Production | 245,000 tonnes/year |
| Working width | 505 cm |
| Operational speed | 930 m/min. |
| Grammage | 118 to 180 g/m2 |
| Products | White faced testliner, gypsum grade liner board, brown testliner |
Machine features:
Fourdrinier machine with top screen
6 double row dryer groups
Implemented film press
2 slalom dryer groups
Soft-Nip calender
Fully automatic Metso WinDrum roll cutter